Kendall Jenner House – Modern Home in Beverly Hills: There is a Jenner-Kardashian family member who holds magazine covers every day. But this time, it was for the best reason. Kendall Jenner accepted an Architectural Digest invitation to tour her Beverly Hills home and will be featured on the cover of the next issue.
READ ALSO: Kendall Jenner Measurements
Given Jenner's home is one of our favorite homes out of all the celebrities who call Beverly Hills home, it's only right that we share some highlights with you. We guarantee you won't regret this tour.
Kendall Jenner lives in Charlie Sheen's former house
Mulholland Estates is home to the 6,625-square foot Spanish-style home. This gated community has its own security and is popular with celebrities (such as Christina Aguilera and DJ Khaled).
The house was purchased by the supermodel in 2017. paid $8.55 million for it.
Jenner's house was home to Tom Gores, Detroit Piston's own owner.
Kendall Jenner made the house her own and formed a design team with Kathleen Clements, a mother-and-son team — who she often credits with the interiors of her A.D Open Housetour — as well as Waldo's Design's expert team.
READ: Taylor Swift's Rhode Island House
Kendall acknowledges that it is not an easy task to create a home for herself. However, she is happy with the result. She can now retreat to her peaceful, welcoming home and meditate or entertain friends.
Jenner's home features a serene, earthy interior, punctuated with colorful, expensive art pieces
" My life is full of travel, chaos, and high energy. I wanted a home that felt peaceful, where I could just zone out and relax.
She designed her home with organic textures and earthy tones in mind.Inside Kendall Jenner's Los Angeles home. Photo by William Abramovicz Architectural Digest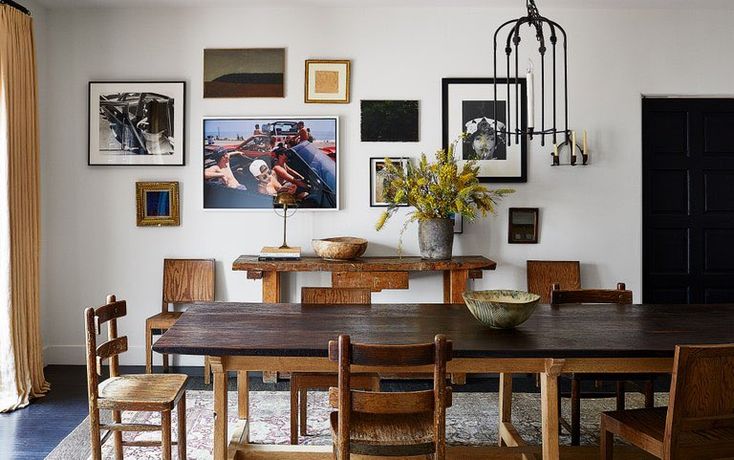 Jenner has spoken out often about anxiety and it is no surprise that Jenner's home was designed to be a sanctuary. There are meditation corners, tea-making areas, and bright open spaces that lead to her serene backyard. The house is actually U-shaped. This means that it connects to the green area.
Jenner transformed a movie theatre into an art studio with canvas drapes. The mindfulness aspect of the home is also enhanced by this, since Kendall views her art projects as therapy.
Kendall Jenner's home isn't filled with expensive, luxurious furnishings. But the artwork is.
The model's space features the iconic James Turrell ovoid wall art at the entrance. This actually prompted some debate about whether she is properly hanging the artwork. A neon Tracey Emin sculpture hangs above her bedroom fireplace. A salon-style hang hangs above the dining table. It anchors by a Lauren Greenfield photo of students from Beverly Hills dropping class.
The Kardashian-Jenner's newest member made sure that her home was filled with modern comforts and glam, despite the fact that she loves art and Zen elements.
Two bedrooms were transformed into fitting rooms and nearby glam rooms by Kendall, who also has a walk-in closet and a shiny brass tub in her master bathroom.
ALSO READ: Jennifer Aniston House
Kendall Jenner's stunning kitchen is easy to recreate in your own home.
Kendall Jenner spoke glowingly about her kitchen when she was asked to name her favorite room in the house. "I didn't know that a particular kitchen could make you crave cooking. I was a terrible cook in my previous house, and then I moved to this one and it makes me so happy to cook and bake." She told Architectural Digest.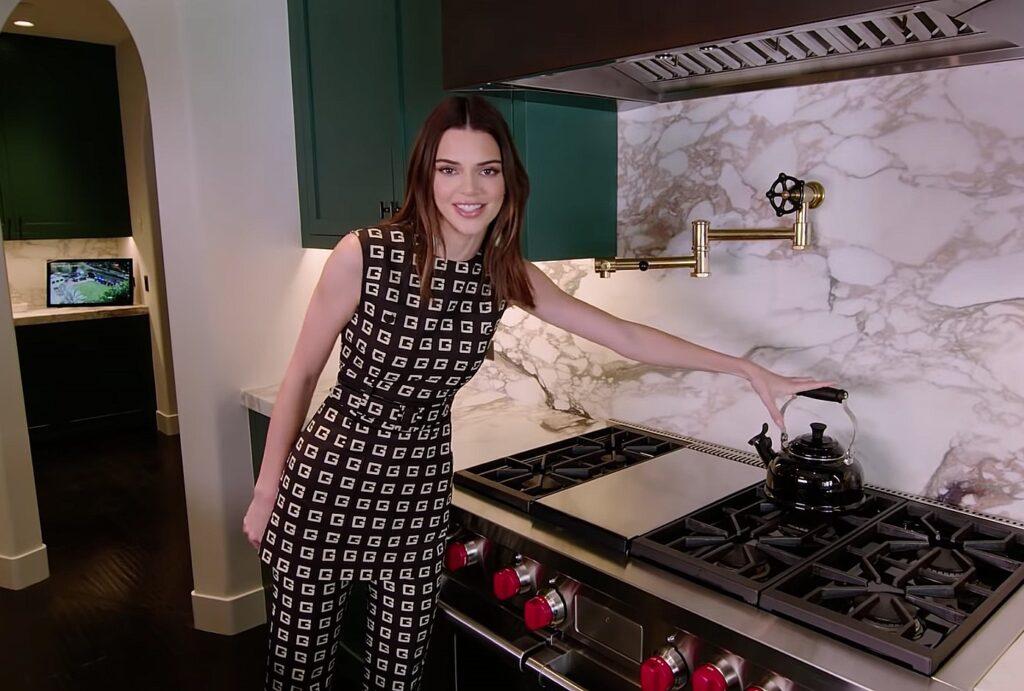 READ ALSO: Ariana Grande House
The model's kitchen features beautiful forest green cabinets, white marble countertops and farmhouse sink. It also has gold fixtures to warm up the space. It's no wonder Jenner loves to spend so much time in this kitchen.
Wren Kitchens, a well-known European kitchen retailer, has recreated Kendall Jenner's kitchen. You can see their rendering of Kendall Jenner's kitchen. Go to their blog to find more information on how to achieve the look.
They recommend that you replace the marble backsplash and countertops with white quartz to keep costs down. It is also easier than maintaining marble.
If you really enjoyed Kendall Jenner House – Modern Home in Beverly Hills tour, I'd be very thankful if you'd help it spread by emailing it to your friends, or sharing it on Twitter, Instagram or Facebook. Thank you!
Related Articles